Auto Mechanic in Wichita Falls, TX

Southwest Automotive is your destination for auto repairs, done right. From the engine to the undercarriage, routine maintenance to mystery problems, we work hard to keep your car running right for as long as you own it. We specialize in Ford and GM vehicles, with a shop outfitted for complete domestic auto repair. Stop in for engines, transmissions, auto AC and much more! Your Trusted Mechanic
Buying a used car? We offer inspection services and will help you get all of the information you need to make a sound purchase.
Learn More
Complete Domestic Auto Services
No one likes visiting their auto mechanic in Wichita Falls, TX. There's usually a problem that needs to be fixed, which means an expense you didn't expect and a headache you'd rather not deal with. At Southwest Automotive, we understand—that's why we work hard to get you in and out as fast as possible, with solutions that get your car up and running again affordably!
Our goal is to get you in and out of our shop as quickly as we possibly can. Don't get confused, though—this doesn't mean we do slap-dash work! We're actually known for our high-caliber solutions and our ability to solve problems with precision. Our secret is more than 40 years of hands-on experience, even working for major dealerships.
We work quickly to deliver complete auto repair in Wichita Falls, TX and we back up everything we do with some of the best warranty terms in the industry! We offer a standard 2-year, 24,000-mile warranty on Motorcraft, Ford and GM dealer parts. For aftermarket parts, we offer a 3-year, 36,000-mile warranty on parts and labor.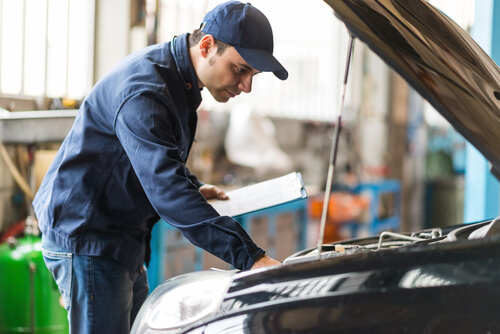 Redefining Service for your Car
Count on us to be thorough in our repairs, taking the time to run diagnostics and perform repairs the right way. We document everything and always provide you with an upfront, written estimate on service. There are no hidden fees, because we believe in honest work. We know you might not like visiting your mechanic, but when you have to, we hope you'll feel confident in choosing us!
We offer a some of the best warranty terms in the industry. If you encounter any issues—regardless of where you are—we have a national network of repair shops to help you!

We have a convenient drop box service for after-hours. Park in our lot and drop your keys in the slot and we'll follow up the next morning!

Owner Danny Murphy has more than 42 years in the automotive industry, with two full-time techs who have 27 and 24 years of experience, respectively.

We have prior experience working for Ford (3 years) and GM (5.5 years) dealerships. We'll make sure you get high-caliber, dealership-quality services.
Quality Auto Repairs
If your vehicle needs auto repair, done right the first time by a highly-qualified tech, pull into Southwest Automotive and let us do the work. We promise results that keep your auto purring!